SAMSUNG SMART SIGNAGE SOLUTIONS 
Techsol Solutions offers Samsung Smart Signage solution for best-class viewing experience through realistic and compelling content. Using the latest display technologies, it offers best-in-class picture quality and enables businesses to deliver engaging content to inform and entertain their customers.
At Techsol Solutions, we offer a wide range of high-impact Samsung signage solutions including standalone digital signage, to state-of-the-art ultra-narrow bezel video walls, to innovative interactive touchscreen display solutions, conference room displays and high impactful advertising SMD LED to help our customers communicate, collaborate and disseminate information brilliantly.
Techsol Solutions is an authorized partner of Samsung Professional B2B Display Solutions in Pakistan. We have a team of expert display professionals to understand our customer's requirement and offer the right solution along with the best after-sales installation and support.
For more details related to Samsung Display Solutions, please visit to: www.displaysolutions.samsung.com
SAMSUNG SIGNAGE DISPLAY – PRODUCTS
STANDALONE DISPLAYS
Communicate your business story through high-impact visual messaging. Samsung Digital signage solution allows you to broadcast your message to multiple displays centrally through a user-friendly CMS solution.
VIDEO WALL DISPLAYS
The large-format viewing experience is equivalent to none through Samsung LCD video wall solution. With high impact full picture quality, great brightness, colour and virtually no bezel, the Samsung video wall solution help audiences focus on your content, not the display creating the ever-lasting experience.
INTERACTIVE DISPLAYS
Whether it is business, retail or education sector, delivering rich content with dynamic interaction through high-impact interactive digital display is must these days. It helps connecting team members regardless of location, offer effective training tools to employees and centrally deliver corporate messages.
OUTDOOR SIGNAGE DISPLAYS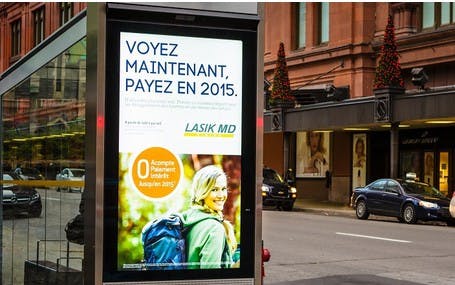 Samsung offers high bright display signs for simplified content sharing that works well in tough and extreme conditions. It offers excellent image quality that captures the eyes of the audience even in challenging environments.
SAMSUNG SIGNAGE DISPLAY – INDUSTRIES
CORPORATE DISPLAYS
To facilitate, collaborate and communicate the company message to customers and employees, high-impact signage displays are a must. Samsung offers a comprehensive portfolio of Samsung display solutions for a wide array of corporate applications including lobby & entrance, conference room, meeting room, huddle room, wayfinding, reservation information and office.
CONTROL ROOM DISPLAYS
Around the globe, control rooms display has acted as critical information hubs for various organizations. To monitor multiple information streams efficiently, the decision makers and operators must be equipped with clear information, and display technology that features the industry's best picture quality, reliability operational efficiency can make all the difference.
 RETAIL DISPLAY
 Opting a signage solution to enhance and create engaging customer experience is a key driver for the retail sector. It allows retailers to improve entire shopping journey of their customers from capturing attraction to providing real-time promotion.
BROADCASTER/MEDIA DISPLAYS
No part of a broadcast is more important to the viewer than the studio and the displays in it. With industry-leading visual technology, it allows creating an engaging and captive experience for broadcast viewers.
HEALTHCARE DISPLAY
For mission-critical hospital environments, clear and concise communication is important to ensure the right messages are delivered at the right time. Multiple display applications include wayfinding, waiting area display, donor walls, to patient care facilities, hospital entrance, etc , an impactful display solution can deliver the sophisticated tools needed to communicate quickly and efficiently throughout the facility.
 AIRPORT DISPLAYS
Offering real-time flight information and personalized contents to passengers in the ort is getting very important these days. With Samsung display solution, the passengers can precise flight information, help to promote shopping messages to increase revenue, and maintaining operational excellence for airport performance and operating profit.
FOOD CHAIN DISPLAYS
 Increasing competition in the chain business is accelerating organizations to focus on outlet modernization and digitalization by introducing digital menus and signage solution. The engaging and precise display content helps them to increase food delivery speed, maximize profits and develop a premium brand image.
 EDUCATION DISPLAYS
Improve learning experience and school environment through digital and interactive display technologies help education sector achieve the digital transformation.  It helps enhance student engagement through classroom display technologies and highlight student community activities at school/college lobby areas.
 HOSPITALITY DISPLAYS
Tremendous changes are happening in hospitality sector for delivering a personalized, content-rich in-room experience. Hotel owners need simplified display management and easy content management across multiple locations to meet the needs of guests who expect a seamless digital and content-rich experience from the moment they walk in the lobby.
ADVERTISING DISPLAYS
DOOH (Digital out-of-home) advertising is a key component for industry growth in delivering dynamic messaging experiences in real-time. Samsung signage solution helps capture audience's attention through real-time dynamic messaging and viewing experience resulting in more brand awareness and increasing sales.
Information
Tel: +92 21 34370166
Email: info@techsolsol.com
Fax: +92 21 34370167